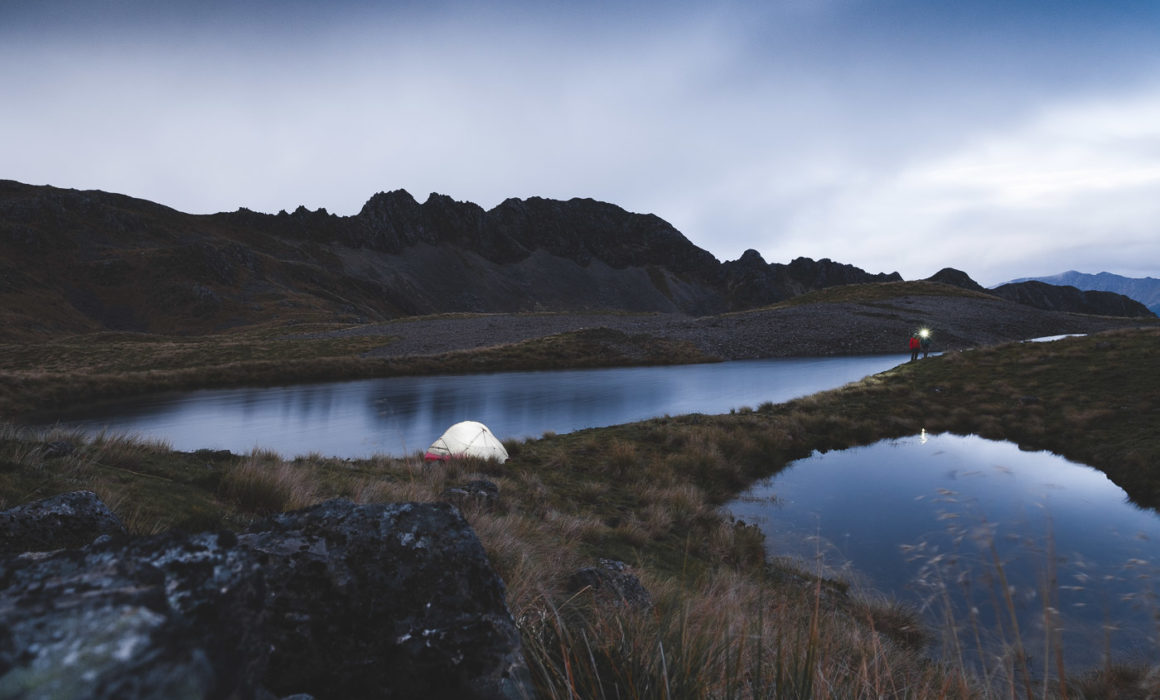 When a tropical storm sneaks up on your tramping adventure, you better have a backup plan. It was just before Easter when cyclone Cook slowly bumbled along the east coast and right into our long anticipated trip. Instead of packing, our evenings were spent with weather forecasts. Plans were amended, and nails were bit. The forecasts all seemed to agree that things were not looking quite as dire in the north-west corner of the South Island. Simultaneously however, the talking heads in the news were saying the exact opposite. Thanks to the unpredictable nature of NZ weather, we took all of the above with a grain of salt.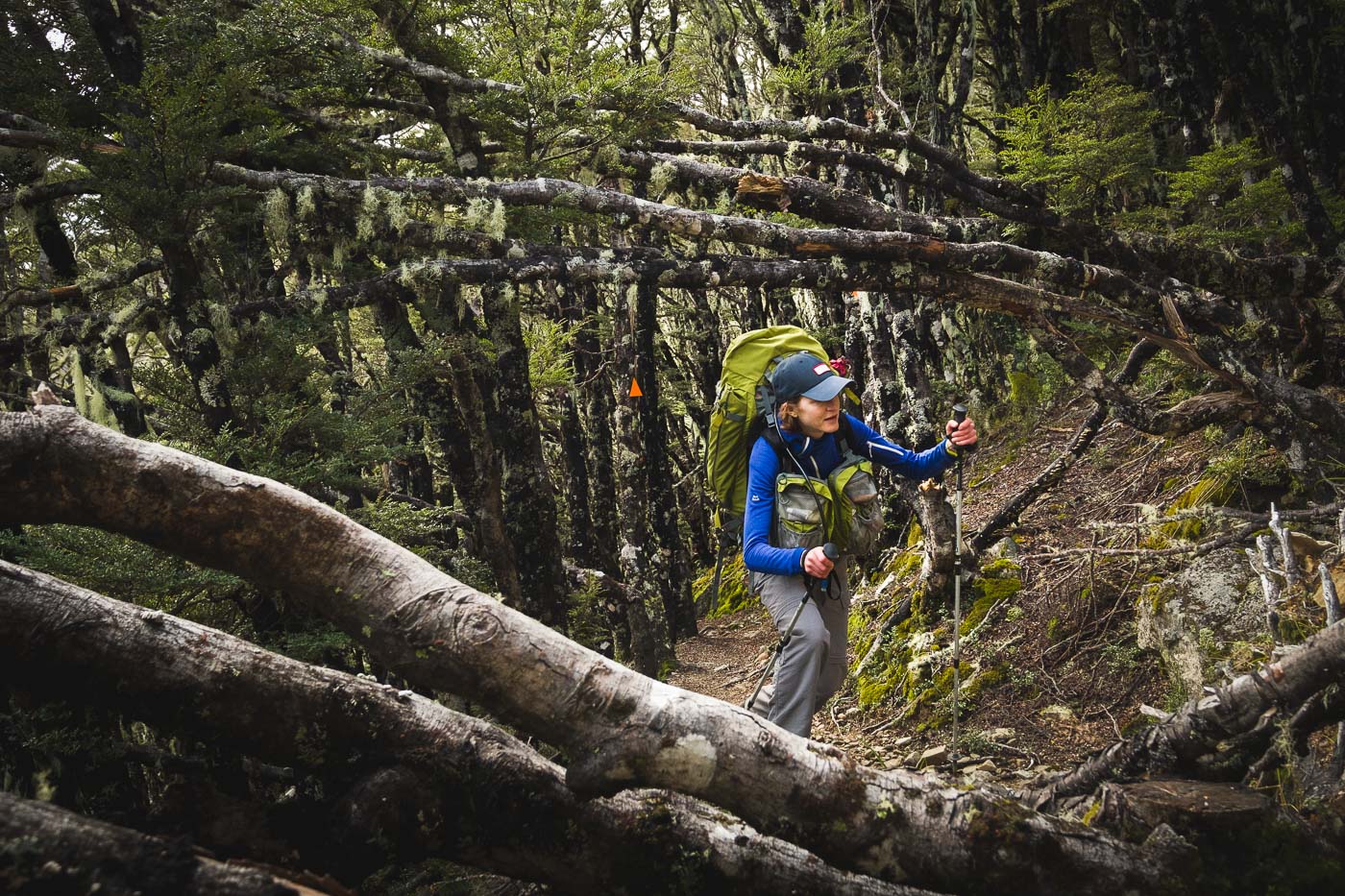 In a spirit of the more the merrier, we added a plan C to our alphabet soup of trip options. After checking the forecast one final time, we crossed our fingers and drove north across the sodden countryside.
Little did we know that our third attempt at Kahurangi's Mount Owen was doomed to fail yet again. This time we made it within ten kilometres of the start of the track when a flooded ford stopped us. Our little 4WD is to a Landcruiser what a poodle is to a wolf. We stared at the murky waters for a while before admitting defeat and digging out plan B.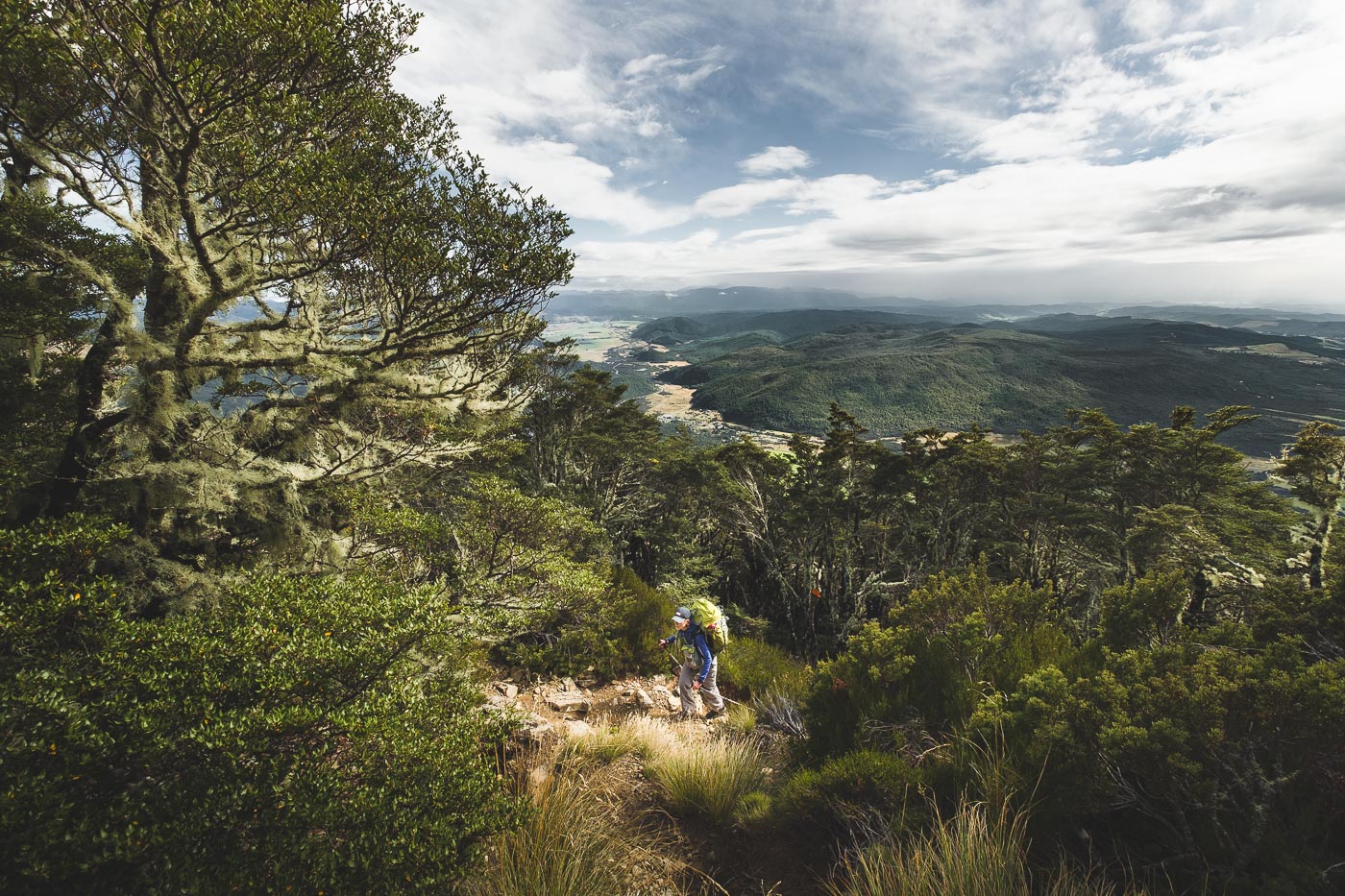 Two hours later we packed our bags on the shore of Lake Rotoiti. The mountain tops were shrouded in dark grey cloud, but otherwise it seemed calm. According to the gospel of Metservice we were to expect a clear afternoon. While the rest of the country was still struggling through the aftermath of cyclone Cook, we shouldered our backpacks with crossed fingers.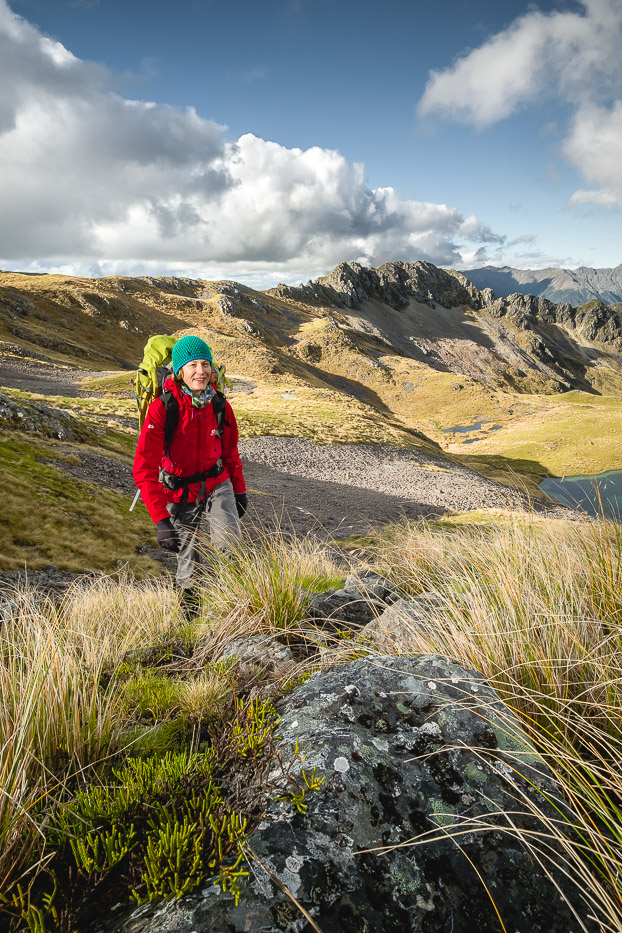 Soggy trampers on their way back from the tops reported of conditions that ranged from unpleasant to unpalatable. The perpetual pea-soup we were scaling only added to the sense of doom. Our spirits hit a low when we discussed turning around and calling it a day. Luckily stubbornness prevailed, and a decision was postponed until we reached treeline. There is no better torture for calves pampered by an office lifestyle than dragging heavy packs up a slippery 1000m climb. At the very least we were getting a good workout after half a day in the car.
In the end it paid off that we had done our homework, came with options, trusted in the forecast, and moved on despite short bouts of the tramping blues. Winds dropped to manageable levels after we arrived on the tops. The clouds were parting, and beams of golden light were proclaiming that cyclone Cook's reign of terror had come to a sunny end.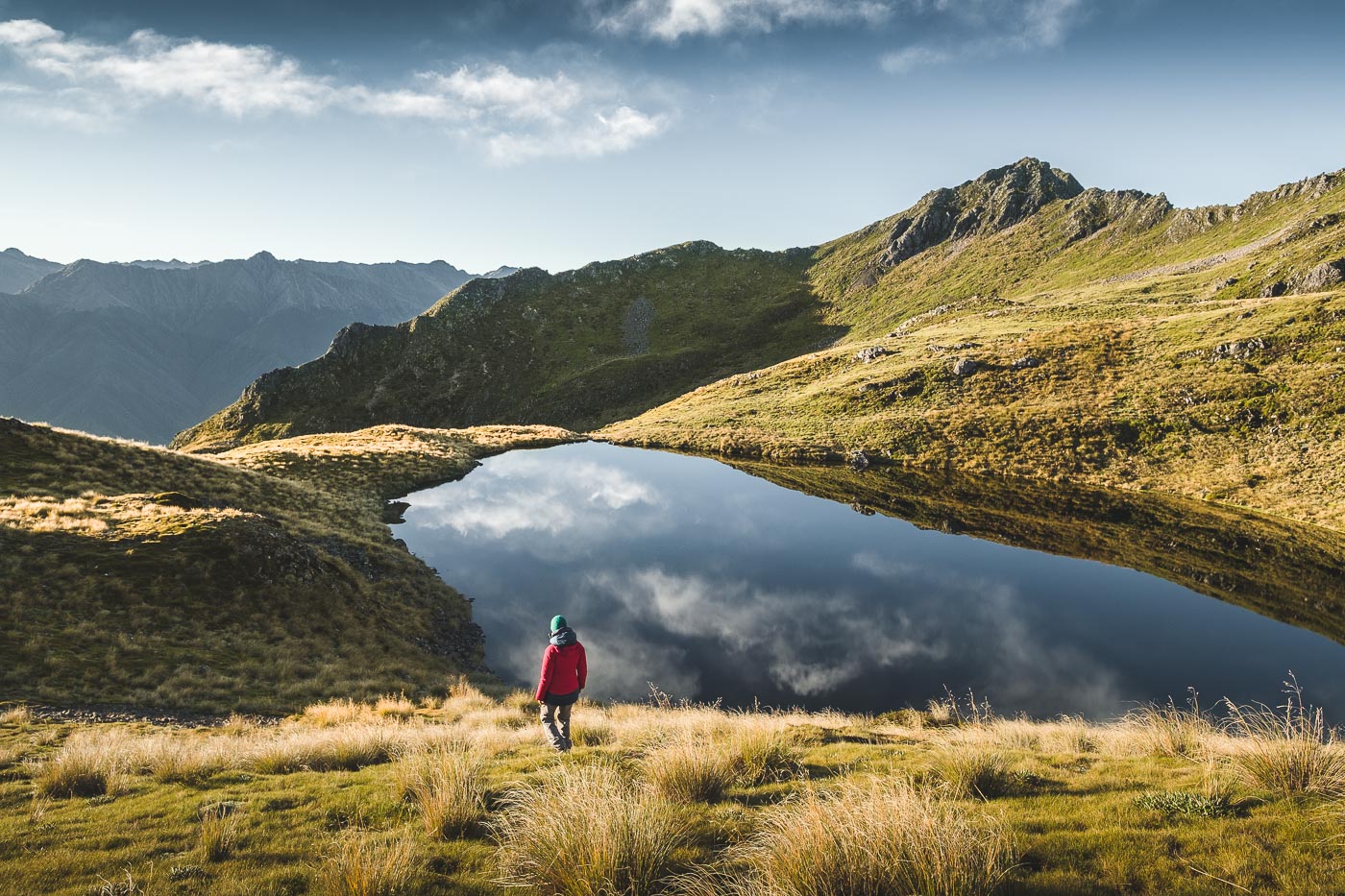 We dropped down into a basin covered by a string of blue tarns that were sparkling like beads on a necklace. A little later we were sitting by our tent between two tarns, the sun warming our faces. It was hard to fathom the polar opposites of a strange day in the mountains. It was a good reminder that sometimes we just have to have a little faith.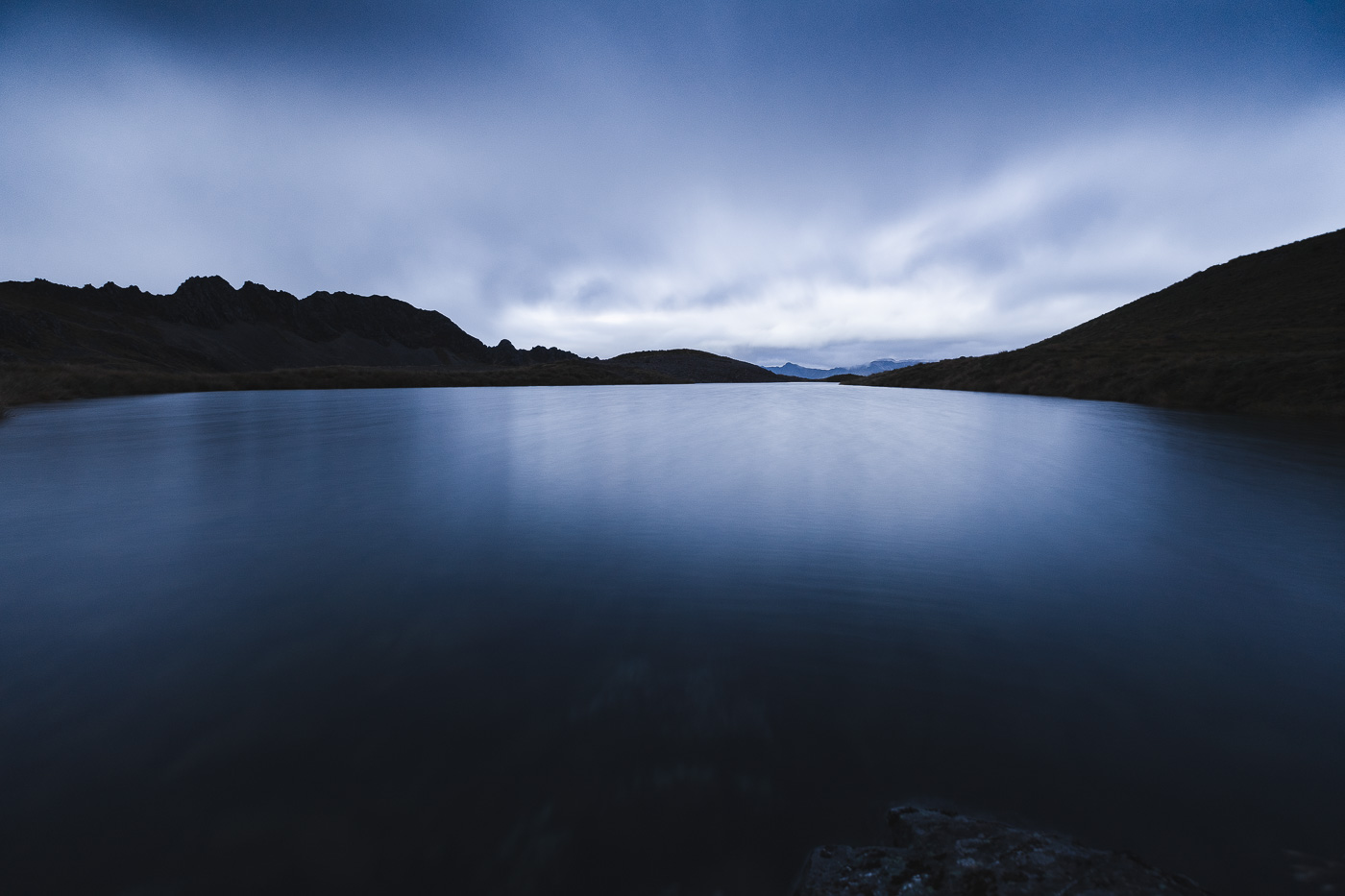 Resources
If you are planning your own backcountry adventure you might find the following websites helpful.
All mountain and national park related forecasts on Metservice
Detailed precipitation forecasts and maps on Metvuw (mobile version)
Windytv is my favourite tool as of late. Drill down into a region, filter by temperature, wind speeds or any other number of weather events at a certain elevation at a certain point in time.
Webcams are another great tool to get a real-time view of local conditions. Just google for 'webcam' and your region of desire.