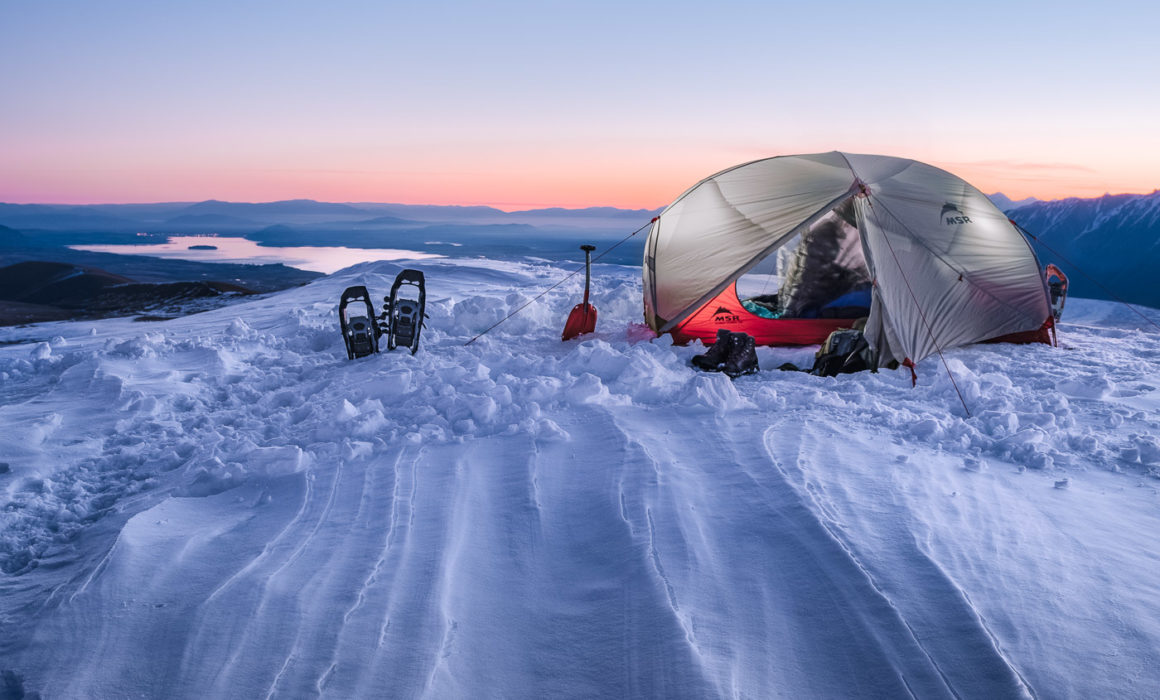 Two Thumbs – A Snow Shoe Stroll
New Zealand is not exactly known as prime snowshoeing terrain. Our winter landscapes are mostly dominated by snowless valleys and ragged, imposing peaks. So it is either no snow or outright mountaineering terrain, right?
Luckily there are a few exceptions. Thanks to its high altitude, reliable snow cover and gentle terrain, the Two Thumbs range near Lake Tekapo is a good starting point for a snowshoe adventure.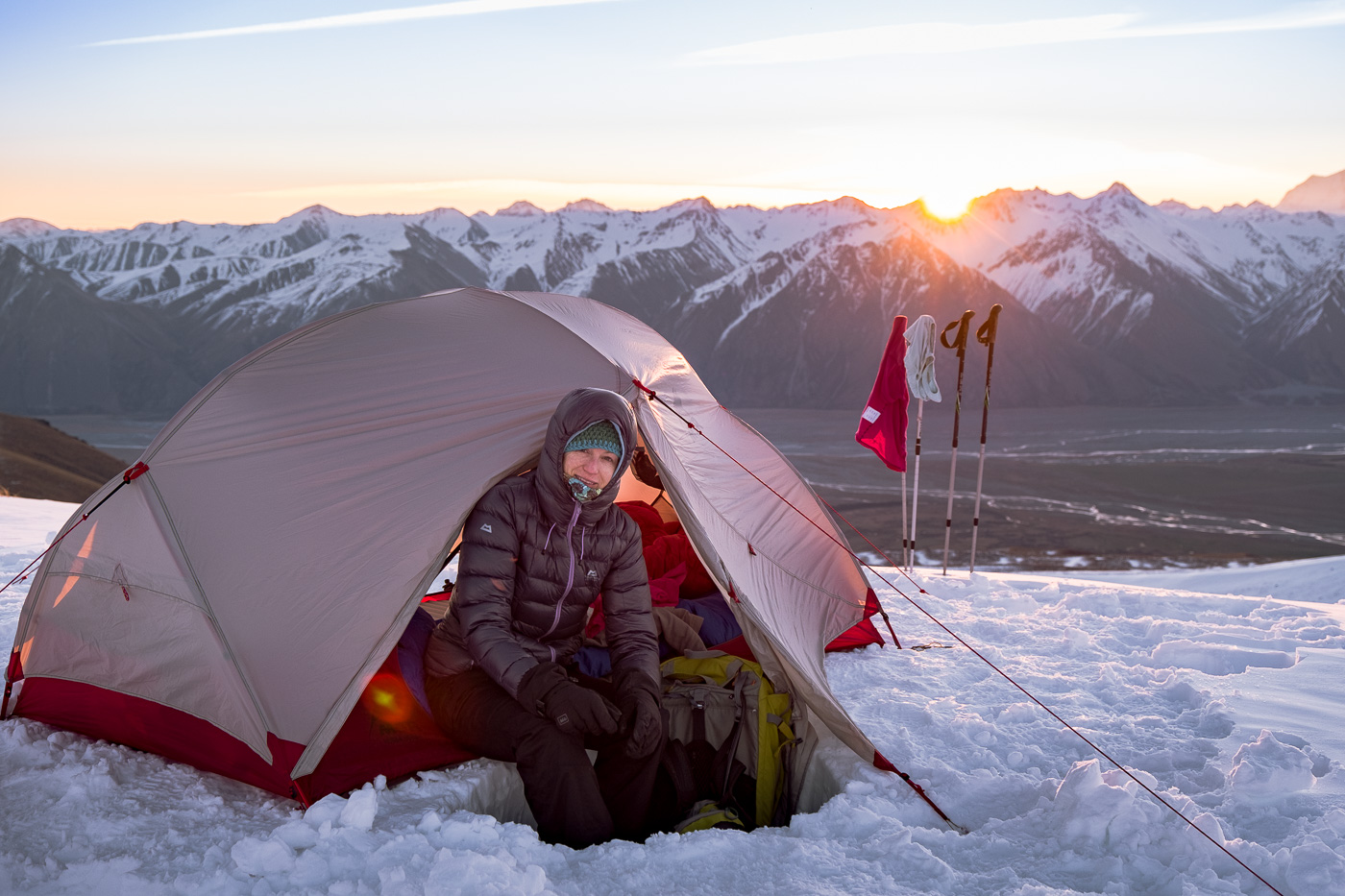 After weeks of postponing the trip due to temperamental weather conditions, we finally had green lights across the board. Enough snow: Check! Low avalanche risk: Check! No winds to blow us over: Check!
The biggest challenge was in how to get up to the Thumbs. Following the Te Araroa Track from the Roundhill access road seemed like a detour. The farm track between Mount Gerald Village and Rex Simpson Hut turned out to be private and locked with a deer fence. Luckily there is another track that is not on any standard Topo50 map. A nameless track near Coal River starts from a DOC car park just south of Mount Gerald village. Thanks, nameless farmer of the ginger-tribe for the hint.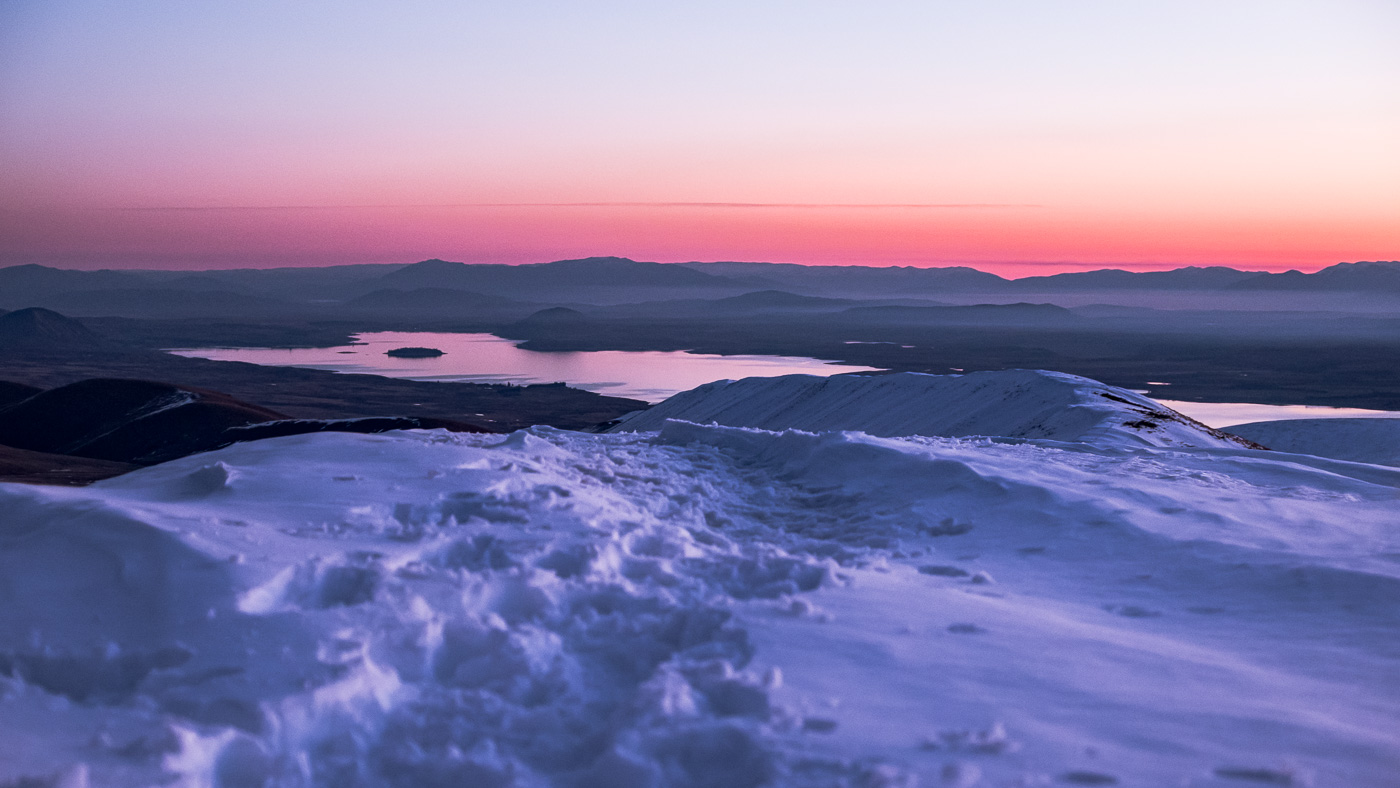 In the end it took us almost three boring hours in summer-like heat to get to our half-way point at Rex Simpson hut. There we could finally hop into our snowshoes and have fun. The cool thing about snowshoes is how easy they are to use. Where it takes instructions and a bit of practice to not impale yourself on crampons, snowshoes are a simple affair. Just strap in and off you go. Using them feels so simple at times that one might be tempted to think they have no effect at all. Once you take them off and immediately sink into soft snow to your knees that assumption quickly stands corrected.
The last three hours to our home for the night were absolutely spectacular. Once we left the gentle slopes of Tekapo's high country stations behind us, a majestic winter-wonderland blew us away with spectacular views. We decided to stay on the ridge-line below Stag Saddle to be able to enjoy as much of the icy panorama as possible.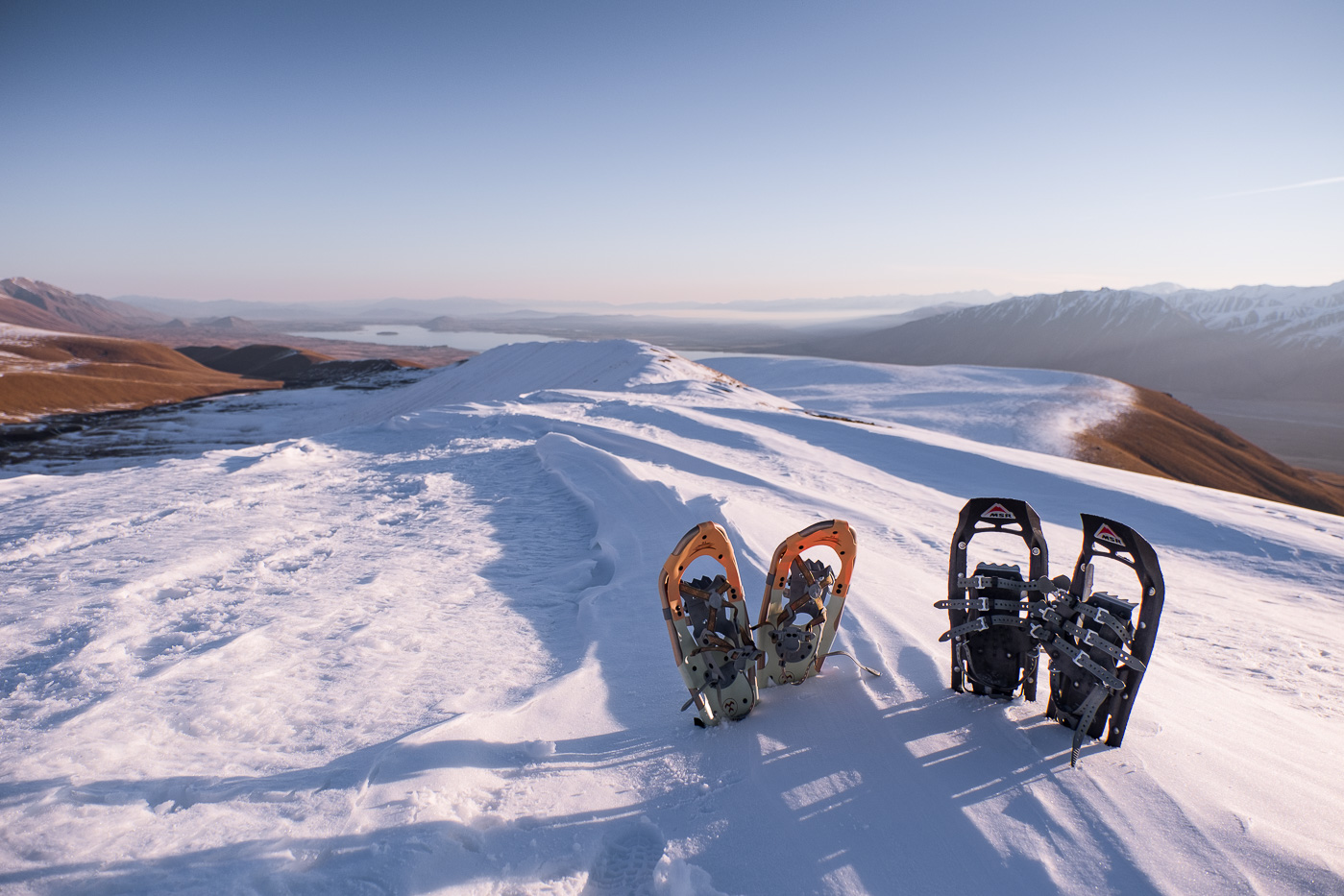 Finding a suitable campsite in snowy conditions is much easier than in summer. Just pick a random flat spot and settle down. No rocks or potholes to bother with. The snow is easy enough to consolidate by stomping it for a few minutes: Looks silly but works well.
With that taken care of the tent was set up in short order. Added bonus: We dug holes in the vestibules for our gear and legs. As a MAMOS (middle-aged-man-on-snow) with back issues I greatly appreciated to be able to sit down and eat like a human being.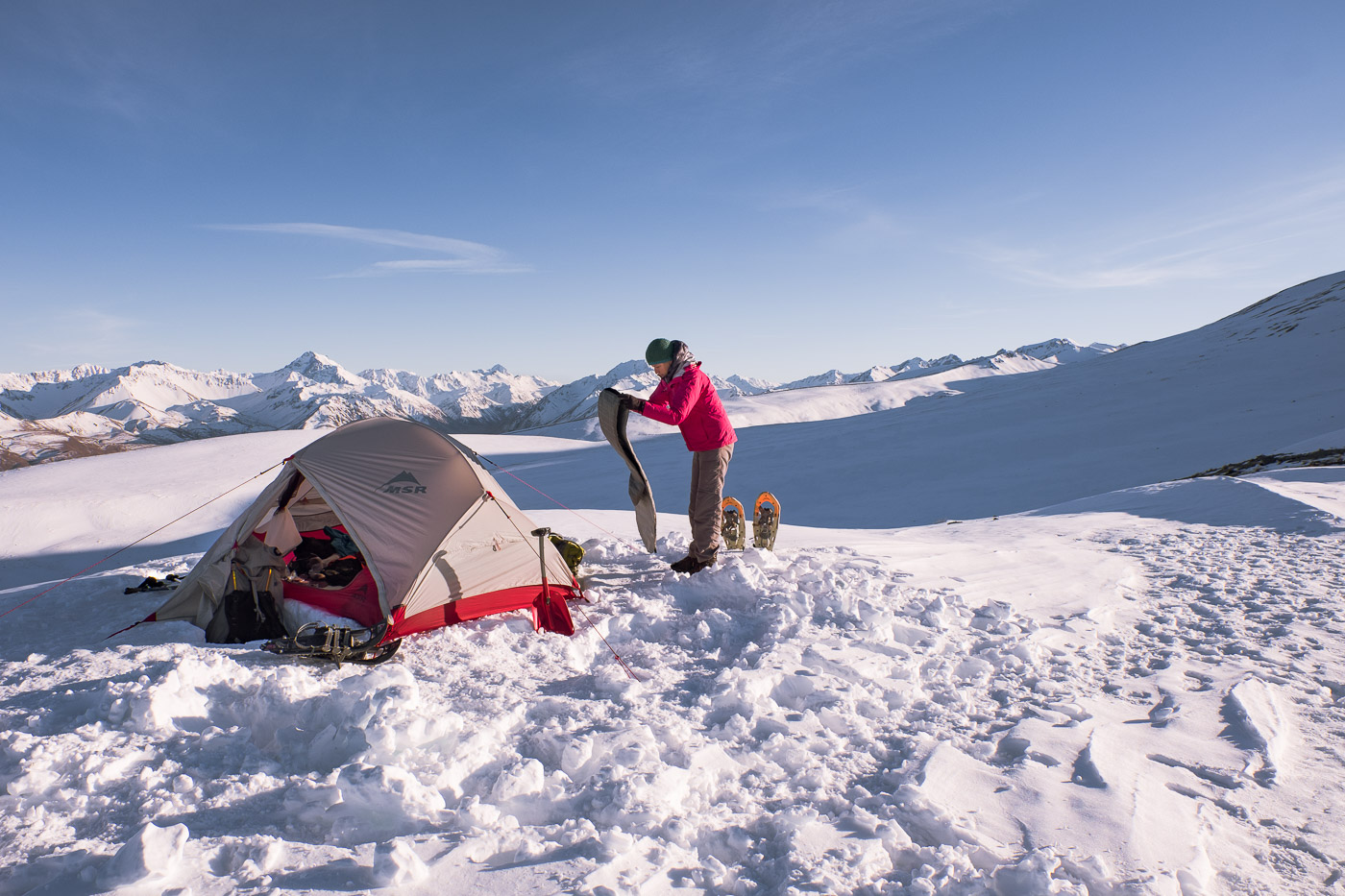 Our long-delayed trip to the Two Thumbs was worth the wait. As much as we would have loved to continue across Stag Saddle, down to Bush Stream and into the Rangitata, we only had a single night to spare.
That one night will stay with us, though. Munching our dinner in our foxholes we watched the lights of Lake Tekapo village and the Milky Way twinkle in the distance.